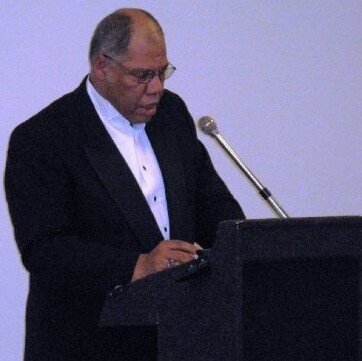 Contact Information
1201 W Nevada St
M/C 143
Urbana, IL 61801
Research Description
Some publications
Conwill, W.L. (2018). Community engagement: Reflexivity and reciprocal transformation (pp. 137-158). In R.F. Kronick (Ed.). Community Engagement: Principles, Strategies, and Practices. Hauppauge, N.Y.: Nova Science Publishers, 2018.
Conwill, W.L. (2016). Training Black spirit: Ethics for African American teens. Berkeley, CA: Ronin Press.
Conwill, W.L. (2015). Decolonizing Multicultural Counseling and Psychology: Addressing race through intersectionality, pp. 117-126. In R.D. Goodman and P.C. Gorski (eds.), De-Colonizing "Multicultural" Counseling through social justice. Series: International and Cultural Psychology. NY: Springer.
Conwill, W. (2015). Il razzismo contro gli afroamericani-Stato di discriminazione. Nigrizia, il Mensile dell'Africa e del Mondo Nero, 
Sep. 1, pp, 10-13.

Conwill, W. L. (2010). Domestic violence among the Black poor: Intersectionality and social justice. International Journal for the Advancement of Counselling, 32(1), 31–45.
Conwill, W. (2010). N'Deup and mental health: Implications for treating Senegalese immigrants in the US. International Journal for the Advancement of Counselling, 32(3), 202-213.
Conwill, W.L. (2009). Factors affecting the presence of Black males on counseling and psychology faculties, pp. 287-315. In H.T. Frierson, J.H. Wyche, & W. Pearson, Jr. (Eds.), Black American males and higher education: Research, programs and academe.
Bingley, UK: Emerald Group Publishing Limited.
Conwill, W.L. & Jooma, K. (2008). Thwarting ethnoviolence against Muslim women: Performing identity in social action. Journal for Social Action in Counseling and Psychology, 1(2), 30-47.
Conwill, W.L., & Parks, A. (2007). School climate factors in selected full service and traditional elementary school sites in a Southeastern City: Contrasts and comparisons. The American Association of School Administrators Journal of Scholarship & Practice,
4(1), 43-51.
Conwill, W. L. (2007). Neoliberal policy as structural violence: Its links to domestic violence in US Black communities. In N. Gunewardena & A. Kingsolver (Eds.), The gender of globalization: Women navigating cultural and economic marginalities (pp. 127–146). Santa Fe: School for Advanced Research.
Conwill, W.L. (2003). Consultation and collaboration: An action research model for the full-service school. Consulting Psychology Journal: Practice and Research, Vol 55(4), 239-248
Conwill, W. L. (2001). Millennial mandates for mental health. In T. McClam & M. Woodside (Eds.), Human services challenges in the 21st century (pp. 175–191). Reading: Council for Standards in Human Service Education.
Education
Ph.D. Counseling Psychology, Stanford University, Stanford, CA
M.A. Experimental Psychology, California State University, San Jose, San Jose, CA
St. Patrick's School of Graduate Theology, Menlo Park, CA
B.A. Philosophy, University of San Diego, San Diego, CA