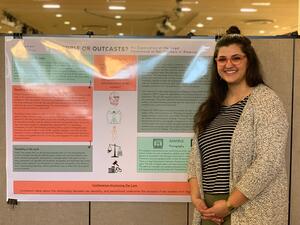 MARI ROZELLA ('19) As the first individual in my family to attend a university, I was thrown into deep water when I arrived on campus. I hadn't the slightest clue about navigating the various departments, colleges, and majors. I knew that I enjoyed reading and writing, and I knew that I had a passion for civil and social justice issues. 
While I tried to get the hang of college life (and find the right major!), I enrolled in Dr. Kevin Mumford's course entitled "Constructing Race in America" (AFRO 281) as a general education course. Little did I know that my entire college career would be defined by that course. I like to attribute the moment everything fell into place was when Dr. Mumford walked around the lecture hall, hands clasped behind his back, and asked the class, "so which came first: slavery or race?" The answer is slavery, and the lesson that followed introduced me to an entirely new perception of the world around me.
In the remaining time I spent on campus, I enrolled in courses taught by Dr. Bailey, who mentored me and advocated on my behalf for numerous opportunities. I studied African American history with Dr. Erik McDuffie, who not only remains the most passionate and dedicated professor I have been taught by, but also commits much of his time and curriculum digging through history to ensure that Black women are always included in the conversation. Dr. Desiree McMillion also found time to help me find my place in the AFRO Department while finalizing her dissertation and earning her doctoral degree.
As I continue my career with the Department of African American Studies during the 2019-2020 school year as a research assistant, preparing for my enrollment in a Ph.D. program, I cannot express the gratitude I have for this department and all those affiliated.