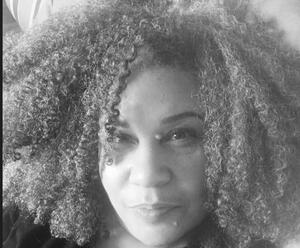 RUTH ROBIN COLLYMORE-HENRY ('82) As an undergrad student at UIUC in the early 1980s, I had to make some important decisions in order to graduate on time with the proper credits in the right categories. Without a doubt, I wanted to pursue a career in the media department of an advertising agency, and I needed to take the perfect electives to round out my schedule each semester. My counselor assisted me to select courses that would be useful to my future dream career and not just a waste of time just to earn a credit.
I enjoyed several courses that demonstrated the way that the media portrayed Negroes, Colored people, Black people, and Afro-Americans throughout history. The difference in the names of our race is just one way that I learned about my own history during some of these courses. While Dr. Chester Fontenot may have been an English or Social Studies professor, his lectures hit home with me on a weekly basis. He made me feel like he was speaking directly to me. Recently I reconnected with him on Facebook and I thanked him for being so spectacular!
After graduation, I began an amazing career in Advertising that ended with me fulfilling my goal to become the Media Director. My experiences gave me the proper perspective as I spent a great deal of time working in targeted marketing specifically for the Black Consumer Market.
My career evolved when I left Advertising full-time and I was recruited to become a high school English teacher in Chicago Public Schools. The game-changer for me occurred when I was awarded a scholarship to earn a masters degree. After the State of Illinois Department of Education evaluated my transcripts it was determined that I was only short by 1 credit of post-Civil War History.
I was finished with my prerequisites before anyone in my class as a result of the courses that were required at UIUC. I am grateful that I was prepared to make a drastic career change and that I was ready to share my skills with students who often lacked a complete understanding of Black culture in America. I owe that perspective to many of the courses that I took in the African-American Studies Department!
Ruth Robin Collymore-Henry
Class of 1982