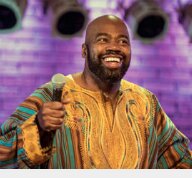 Contact Information
Dance Administration Building
907 1/2 West Nevada Street
Room 118
Urbana, IL 61801
Biography
C. Kemal Nance, PhD "Kibon" a native of Chester, Pennsylvania is a performer, choreographer, and scholar of African Diasporan Dance. Attendees at the Colloquium of Black Arts in Bahia, Salvador knighted him "Kibon" – the name of a Brazilian ice cream to reflect the "delicious time" they experienced in his movement class. Before moving to Illinois, Nance performed as a principal dancer with Kariamu & Company: Traditions (Philadelphia, PA) and as a recurring guest artist with Chuck Davis' African American Dance Ensemble (AADE) in Durham, North Carolina. He currently directs the Nance Dance Collective, an all male dance initiative that produces dance works about Black manhood. His latest work, Red, features a combined cast of dancers from the Nance Dance Collective and the Stella Maris Dance Ensemble and will be premiered in Kingston, Jamaica in November. Nance is a master teacher of the Umfundalai technique of African dance, a founding member of the National Association of American African Dance Teachers, and an Executive Board Member of the Collegium of African Diaspora Dance. He has recently published a chapter about men's experiences in Umfundalai technique classes in Karen Bond's Dance and the Quality of Life and as two chapters in the soon to be released African Dance in America: Perpetual Motion and Hot Feet.
Education
PhD in Dance, Temple University, Philadelphia, Pennsylvania
M. Ed. in Dance, Temple University, Philadelphia, Pennsylvania)
BA in Sociology/Anthropology with the concentration in Black Studies, Swarthmore College, Swarthmore, Pennsylvania
Awards and Honors
Campus Research Board Grant (2017)
Courses Taught
Dance History Seminar: An Africanist and Gendered Perspective
Dances of West Africa
Black Men and Masculinities
Break Down! Black Dances of Resistance
Umfundalai: Contemporary African Dance
Additional Campus Affiliations
FAA Executive Committee
University of Illinois Black Chorus
External Links
Recent Publications
"Friction: Masculinities in Umfundalai," in Dance and the Quality of Life  edited by Karen Bond. Springer, 2019.