Image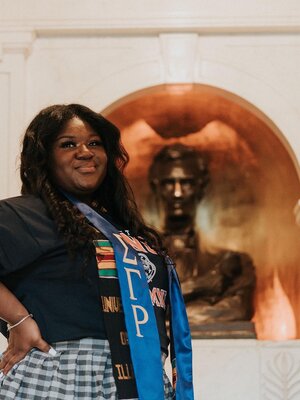 Why African American Studies (AFRO)?
In high school I felt I had a lack of knowledge pertaining my own history as I identify as African American, I also found that I enjoyed many of the Afro classes because I found a passion for researching about lack of health benefits for specifically for the African American community. This is why I choose to major in African American studies. 
How has being an AFRO major or minor benefited you? Are you working in your field?
I have learned so much about myself and my community in my classes. I have learned how to apply the facts to logistical plans for change in many realms of the African American community. I have not yet started my career, but I will definitely be using what I have studied in my pursuit for a career. 
What will you remember most about your time/courses in AFRO, your favorite thing?
I will never forget my freshman year taking Afro 224 and discovering my fascination for learning and researching and race and food insecurity. It was very new to me, and I really enjoyed the class because every day I learned something different.